Fall is the perfect time to hunker down and get cozy at home — while finding fun new ways to make the most of the season! 
Looking for a little inspiration as we settle in for another golden Chicagoland fall? Here are twelve fun, festive fall craft ideas and DIY projects perfect for the whole family.
1.) Get Creative With Pumpkins
Nothing says autumn quite like a front porch decorated with pumpkins. This fall harvest staple is a perfect canvas for your artistic energy — whether you want to paint a Halloween scene or carve a classic jack-o-lantern. Looking for creative ways to decorate your fall pumpkin?
2.) Turn Fall Leaves Into Beautiful Arts and Crafts
The next time you rake up leaves, save a couple for craft time! From creating festive fall stencils to pressing leaves to preserve them for years to come, there are all sorts of ways to use this fall classic in creative ways. Here are a few resources full of projects worth exploring all autumn long:
3.) Use Corn Husks In Creative Ways
Fall is associated with the bounty of the harvest,especially here in the Midwest. Celebrate the season  — and add a rustic flair around your home — by putting corn husks to work in creative ways. This autumn staple can be dyed and twisted as the basis for all sorts of festive crafts, from napkin rings to door knockers.
For more ideas, check out this great seasonal list from Midwest Living.
4.) Knit or Crochet a Cozy Fall Accessory
There's nothing more comfortable and cozy than snuggling up under a giant blanket, or bundling up in a fun fall scarf — except getting comfortable in one that you made all by yourself! The chilly days of fall are the perfect time to stay indoors and pick up your passion for knitting, quilting, or crocheting. Looking for ideas to get started?
5.) Do Some Fall Flower Arranging
While most people associate flowers with spring, the reality is that autumn is also a wonderful opportunity to build a beautiful bouquet — especially if you love all of the warm, rich colors that come to life at this time of the year.
Not sure what blooms are in season? Check out our blog for a go-to guide to fall flowers and what you can do to bring fall colors into your garden.
For more inspiration, HouseBeautiful shares ideas for creating stunning fall flower arrangements and centerpieces, and Midwest Living presents 50 easy fall decorating projects.
6.) Make Dinner Special With Festive Fall Table Settings
Whether you're sitting down for a Thanksgiving feast, a Halloween treat, or a simple weeknight dinner, there are all sorts of fun ways to make sure your tablescape matches the season. Here are some fun DIY table decor ideas to try this autumn:
7.) Use Everyday Art Supplies for Some Creepy Halloween Crafts
The classics don't have to go out of style! This fall may be the chance to rediscover and share a vintage Halloween craft idea with the next generation, from popsicle stick mummies to scarecrows stuffed with straw. Here are a few places to look for classic inspiration this autumn: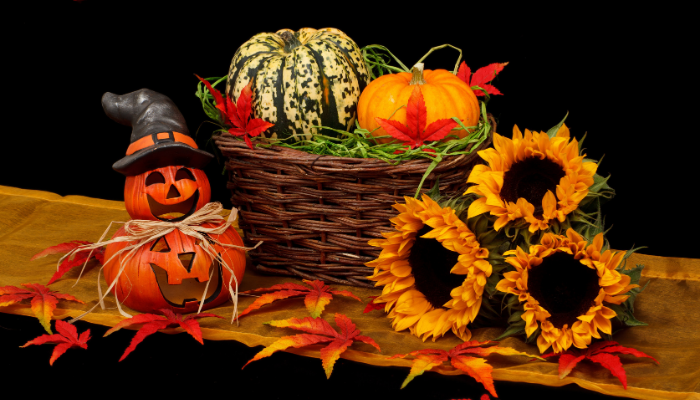 8.) Try Making Your Very Own Candles
Cool, dark fall nights call for crackling, merry candles. If you're a candle lover, you probably already have a go-to store here in Chicagoland. But have you ever tried supplementing your collection with some DIY candles of your very own? For anyone just getting started, The Spruce offers a beginners' guide to making candles at home. HGTV also has some handy ideas for making DIY holiday scented candles.
Want to get creative with the candles you already have in your collection? For ideas on making your own charming candle holders and luminaries, check out these handy guides from DIYS and The Spruce.
9.) Upcycle Old Household Items Into Fun Fall Decor
Fall is a time for renewal — and what could be a better way to celebrate the season than by transforming and upcycling used household goods into festive, showstopping decor pieces? Looking for some creative ways to make the most of that old household clutter?
10.) Create a Homemade Gift Your Friends and Family Can Put to Good Use
Looking for a fun addition to your Halloween care packages? This year, try hand making something that your loved ones can really use — such as a bookmark, a bar of autumn-scented soap, or even a DIY stress ball. 
11.) Make a Sign for the Season
Crafting an entryway sign is a great way to say hello to the season — and any fall visitors who come your way. From reusing old mirrors and frames to decorating a plank of wood, there are all sorts of fun and crafty ways to create a sign that stands out. Ready to get started?
12.) Make Your Own Wreaths and Garlands
Wreaths and garlands are the perfect way to add a chic finish to your door, all year round. During the fall, consider creating a wreath that embraces autumnal colors or textures. From the rustic to the ultra-modern, here are a few inspiring ideas to try this season: 
Ready to Make the Most of Fall in Chicagoland?
The chilly days of fall are a great opportunity to focus on your biggest home goals.
Looking for ways to enjoy all that autumn in Chicagoland has to offer? Curious about how you can use this season to get your home ready to sell, or start your search for a new place? While it's hardly business as usual right now, we know that the Chicagoland real estate market is still strong. The market is moving — and if you're ready, you can too.