There's nothing quite like fall in Chicagoland. As the weather turns crisp and cool and the leaves start to turn orange, neighborhoods across our area come alive with fun things to see and do. 
As we get ready for an autumn like no other, there are still plenty of ways to enjoy all that the season has to offer — while staying safe and comfortable, at every step of the way. 
Looking for a little autumn inspiration this year? Here are 10 fall activities perfect for the whole family to enjoy together: 
1.) Embrace the Season With Your Decor
While it can be a bit sad to say goodbye to the warm and sunny days of summer, fall is a great chance to refresh your home decor, inside and out. Break out your coziest blankets in the living room, embrace your favorite fall colors on your patio or deck; and get creative with your tablescapes and centerpieces in the kitchen and dining room. The whole family can get involved by picking out their favorite pieces and making the whole home look picture-perfect.  
2.) Enjoy a Slice of Pie or a Cup of Coffee from a Local Spot
When many people think of fall in Chicagoland, their minds immediately go to one thing: food. In our area, autumn weather calls for cozy, delicious treats, from sweet pies to pumpkin lattes to creamy hot cocoa. You can find your fall favorites at local restaurants all around Chicagoland. To get your search started, check out TimeOut Chicago's guide to the area's best pie shops. To find restaurants near you open for takeout and delivery, explore with Dining at a Distance or this interactive map from the Chicago Tribune. 
3.) Head Out Into Nature
To enjoy the best that fall in Chicagoland has to offer, be sure to spend some time in the great outdoors — while following proper public health and safety guidelines. Look for trails and greenspaces in your neighborhood; enjoy a day on the farm at one of Chicagoland's sprawling orchards or pumpkin farms; or set up your backyard for games, stargazing, or a relaxing evening around the firepit.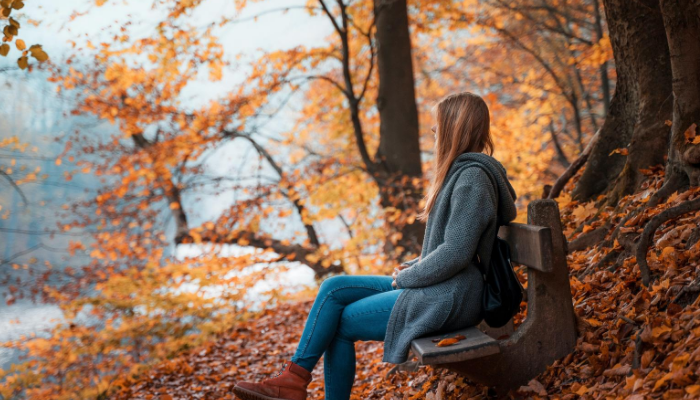 4.) Tackle Your Home To-Do List
With the scorching days of summer in the rearview and a cold, windy winter ahead, fall is a great time to focus on your home. In addition to raking your leaves and protecting your lawn and garden, consider making time to weatherize your windows and doors; make minor green upgrades around the house; service your HVAC and plumbing; and plan for all the DIY projects and renovations you've been dreaming about for months. 
5.) Enjoy Some Quiet Reading Time
When you could use a break from your screens, try cracking open a good book! Whether you revisit a classic or find something new, autumn is a great time to catch up on all the books left over from your summer reading list. Curl up on the couch with your favorite blanket; customize a reading nook for your little ones to enjoy; or relax outside in the afternoon sunshine. 
6.) Get Crafty With Autumn-Themed Projects
The fall months are a perfect opportunity to start picking up a new skill — or diving into an old family favorite. Look for seasonal arts and crafts projects your whole household can enjoy together, like leaf pressing, painting pumpkins, or making decorations from pine cones and other natural elements. Prepare for the frosty winter to come by knitting or crocheting a blanket, scarf, or hat; pick up your favorite musical instrument; or break out your easel to paint a serene autumnal landscape. 
7.) Start Putting Your Oven to Work
After laying dormant for the summer, now is the time to take advantage of the cool weather and head back into the kitchen. Cooking is a fun, relaxing, and educational experience that people of all ages and skill levels can enjoy together — so start baking up your favorite muffins and pies, crank up the stovetop for hearty and filling soups, and look for healthy, family-friendly recipes to prepare in the oven. 
8.) Show What You're Thankful For
With Thanksgiving right around the corner, fall is a great time to start thinking about all the things that bring you happiness and joy. There are all sorts of little ways to come together and share the things you're grateful for — from writing down a personal list each day, to sharing stories and memories around the dinner table, to working on fun projects like building a gratitude tree or making a collage from newspapers and magazines. 
9.) Make Your Own Haunted House
For many people, fall in Chicagoland means that it's time to gear up for Halloween. And while haunted houses and costume parades may not be as easy this year, there are still lots of ways to bring some classic Halloween fun home. For movie buffs, dark fall evenings are the perfect time to revisit all of your favorite horror flicks, or find a family-friendly option to help celebrate the season. You can also work on fun and immersive craft projects that can bring the feeling of your favorite haunted houses inside — like whipping up artificial "Frankenstein ears" and "mummy toes" in your kitchen, or having a family costume contest. 
10.) Bring In Your Favorite Fall Scents
For a true fall experience, just follow your nose. There are lots of easy, affordable, and creative ways to fill your home with your favorite fall aromas. Purchase scented candles or learn how to make your own. Experiment with your favorite seasonal essential oils, like lavender or cinnamon bark. Create a simmer pot to fill your kitchen with fresh seasonal fragrances, or bake up an autumn classic like cookies or pie.
Ready to Make the Most of Fall in Chicagoland?
This is the time to remember what's truly important — health, family, and the bonds that tie us together. Whether it's now serving as a school, office, playground, or simply a safe space, our home has never been more important. We know this is as well as anyone. At Baird & Warner, Chicagoland has been our home since 1855.
Looking for new ideas to embrace the beauty of autumn in Chicagoland? Ready to start your search for a new home in the months ahead? Whatever your real estate goals may be, we get you — and we're here to help make things easier, at every step of the way.