Located in Lake County, north of the city of Chicago, are the communities of Highland Park and Highwood. Part of Chicagoland's North Shore, these neighborhoods offer some of the best suburban amenities you'll find anywhere, including walkable community areas, plenty of unique shopping and dining options, gorgeous parks, and easy access to public transportation. 
Whether you're putting down roots or stopping by for a day, what should be on your "bucket list" of things to see, do, and experience in Highland Park and Highwood? Here are ten of the unique experiences and destinations that help these North Shore gems stand out: 
1.) Enjoy America's Longest Running Music Festival at Ravinia
No summer in Chicagoland is complete without a trip to see a performance at the legendary Ravinia Festival. First opening its gates back in 1904, the Ravinia Festival is America's oldest outdoor music festival, and is still one of its most musically diverse. Throughout its long summer season, the Highland Park festival hosts concerts from international headliners and local artists, playing everything from cutting edge pop to classical.
To learn more about the history of the Ravinia Festival or see this year's schedule, you can visit Ravinia's official site, available here. 
2.) Savor Lake Michigan from Rosewood Beach
Did you know that Highland Park has been called one of America's top five beach towns? This community offers ample access to Lake Michigan, one of the jewels of the Chicagoland area. For a unique and peaceful experience on the water, Rosewood Beach should be high on your list. Part of the Park District of Highland Park, Rosewood Beach was updated in 2015, and features gorgeous modern amenities including a boardwalk, a glass event space, and swimming coves. 
Want to take a look at the new Rosewood Beach for yourself? You can learn more on its official Park District page, here. 
3.) Take a Walk In the Woods at Heller Nature Center
Covering nearly 100 acres, the Heller Nature Center offers visitors the chance to explore the beauty of the natural world up close. This sprawling nature preserve features grass prairies, forests full of oak and hickory trees, and natural wetlands, all accessible from three miles of winding trails. The nature center also hosts various events throughout the year, and its grounds come complete with a picnic area, nature exhibits, natural play spaces, and more. 
Want to see all that this Highland Park oasis has to offer? You can learn more about the Heller Nature Center and see a schedule of upcoming events on its official page, here. 
4.) Enjoy a Sweet Treat from a Local Bakery
In the mood to indulge your sweet tooth? The Highland Park and Highwood neighborhoods are home to no shortage of stellar places to grab a freshly baked treat. In Highwood, you can take a look at the pastries, cakes, and cookies on display at Gourmet Frog Bakery and Bent Fork Bakery. In Highland Park, swing by Breadsmith for a selection of fresh breads and standout sweets, or sample the flavors of a true French patisserie at "That Little French Guy" Bakery & Cafe.
5.) Celebrate Live Music at 210 Live
One of the North Shore's signature live entertainment venues, 210 Live in Highwood is a massive space — but it's exactly the right fit for the sounds coming from a rotating roster of local artists, who plug in and jam out here five nights a week. Housed in a space that was originally Lake County's very first bowling alley, 210 Live now hosts musical acts from all across Chicagoland in a performance space complete with a full bar and kitchen, and an ample dance floor. 
Want to see who's playing? You can check out a schedule or learn more about 210 Live at the venue's official site, here. 
6.) Learn About the Past With the Highland Park Historical Society
Highland Park was originally established as a city all the way back in 1869, making 2019 its 150th anniversary. Over the course of more than a century and a half, Highland Park has grown and changed with the times – and one of the best ways to track all of the developments is to spend an afternoon with the Highland Park Historical Society. In addition to hosting regular events and exhibitions throughout the year, the Historical Society maintains several active historical sites and museums, including the Robert G. Robinson Bandstand, and the Francis Stupey Log Cabin, Highland Park's oldest standing structure. 
To learn more about the Highland Park Historical Society's work or reach out for more information, you can visit the organization's official site, available here. 
7.) Grab a Cup of Coffee at a Local Hotspot
Whether you're looking for a quick cup of java to power your morning commute, or you're in the mood for a place to lounge with an espresso and a good book, Highland Park and Highwood have you covered. Serious coffee fans will find plenty of places to savor throughout these North Shore neighborhoods. A few places to add to your list? Coffee Speaks creates and sells its own signature roasts in a space full of handmade decor and furniture. Nearby, ArrivaDolce serves up locally roasted coffee and artisan sweets, while Perfect Blend in downtown Highland Park serves coffee drinks and homemade food in a relaxed atmosphere. 
8.) Play a Round at a Local Golf Course
Highland Park and HIghwood are full of stellar places to hit the links, for serious golfers and eager newcomers alike. For the opportunity to enjoy the greens throughout the year, the area is home to several prominent country clubs with sprawling fairways, including the Noorthmoor Country Club and Exmoor Country Club. The internationally recognized Old Elm Club also offers avid golfers a prime space to play, as does the Park District of Highland Park's gorgeous Sunset Valley Golf Course. Want to perfect your game, or play a round of mini-golf with the whole family? The Park District of Highland Park also operates the Highland Park Golf Learning Center, which offers a driving range, putting course, and more.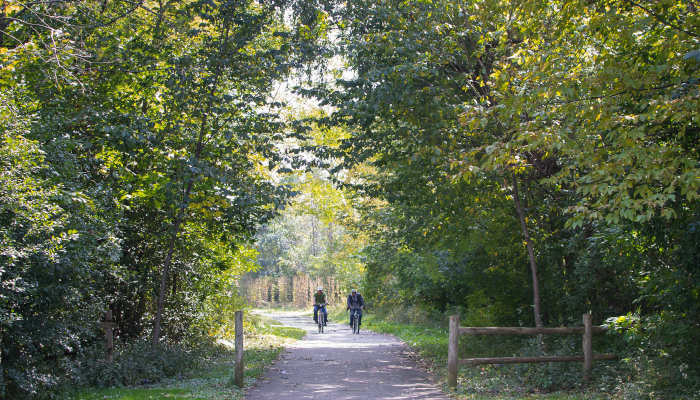 9.) Ride the Robert McClory Bike Path
The Robert McClory Bike Path runs through the length of Lake County, all the way up to the Wisconsin border. Winding through both Highwood and Highland Park, as well as several other northern suburban communities, this well-paved bike path is a great place for a casual ride or a serious trek. The extensive trail frequently runs parallel to Metra commuter rail lines, and offers plenty of places to enter and exit by way of gentle city streets. 
To learn more about this popular, long-standing pathway, you can visit the McClory Bike Path's TrailLink profile, available here. 
10.) Discover Art at a Local Festival
Looking to discover a new favorite piece of art? Want to support the next generation of local artisans before they make it to the big time? Highland Park is home to several famous art shows throughout the year, which can give you the chance to marvel at and enjoy the works of emerging creatives. Art lovers might want to mark their calendars for the Festival of Fine Arts, hosted at the Art Center of Highland Park, as well as the Port Clinton Art Festival, a juried art show held in the heart of the Highland Park community. 
Want to Keep Exploring Highland Park and Highwood?
Want to get to know these northern suburban neighborhoods even better? To see market trends, properties for sale, and other important information you should know about these thriving communities, please visit our guides to Highland Park and Highwood real estate.