Does an early morning stroll or jog on a beautiful beach before taking on the daily hustle sound like an appealing addition to your morning routine? Perhaps an evening visit to unwind or a social gathering of friends and family on the weekend?
Between tough winters, wildly unpredictable conditions in the fall and spring, and beautiful summers, nobody knows how to maximize summertime weather like Chicagoans do. Convenient beach access directly from your Chicagoland place of residence could be a game-changer, but not all beaches are created equal. Where should a Chicagoland beach fanatic live to be within walking distance of a good one?
Living in walking distance to a beach can be more affordable than you might think. From the north to the south end of the city, here are the best beach-accessible Illinois locales to try.
Zion
This first one actually isn't walking distance, but Illinois Beach State Park is worth an easy drive over. Extensive facilities for biking, hiking, fishing, beaching, and camping await you here, as well as a beachside hotel which also features a restaurant, spa and fitness center.
Lake Bluff & Lake Forest
True to its name, Lake Bluff is set on a bluff above the shore line. Below the bluff, but still in easy walking distance from many homes, is beautiful Sunrise Park Beach. Entrance is free for town residents, and complimentary beach chairs are provided. Over in Lake Forest, a handful of homes are within walking distance of their town beach, but let's just say these properties don't usually come cheap.
Glencoe
Glencoe's beach is easily accessible from neighborhood streets, opening it up to a large number of homes to walk from. It also boasts an impressive amount of watersports and beach equipment available for rent. However, even for residents, admission is $14/day or up to $95 for the year.
Wilmette & Evanston
Many Wilmette residents live near spacious Gillson Beach, which costs them $7 for a day pass or $50 for the season. This one's chock-full of amenities. Evanston, meanwhile, boasts six beaches, nearly all of which are well-integrated into adjacent neighborhoods providing strong access. They still come with a cost of admission, although it's worth noting their season "tokens" are much cheaper than most.
Rogers Park
City beaches are free to access, but you wouldn't know it based on Rogers Park's numerous intimate, exclusive-feeling "street-end" beaches. Unlike most other city beaches, they are unconnected by public parkland, so they don't attract the crowds others do. They are quite literally downstairs or a stone's throw away from many Rogers Park condos. However, their small sizes have made them particularly vulnerable to Lake Michigan's high water levels this year, and even when open, they feature minimal amenities (except Loyola Beach).
Edgewater & Uptown
Edgewater boasts two large, amenitized beaches to be proud of: Osterman (Hollywood) Beach and Foster Beach. Osterman is known as particularly LGBTQ-friendly, and new restaurant Lakebreeze is quickly becoming a favorite. Foster offers bike rentals and a dog beach.
Down in Uptown, big Montrose Beach features a fenced-in dog beach, dog-friendly bar and restaurant, kayak rentals, and volleyball. However, this one is at least 10 minutes walking from even the nearest residences.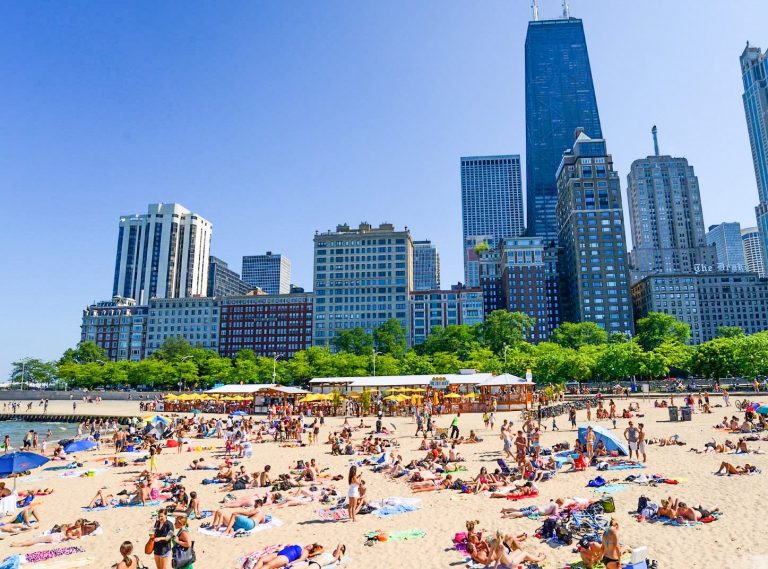 Old Town, Gold Coast, & Streeterville
Perhaps three of the most iconic Chicago beaches are those at North Ave, Ohio St, and Oak St. They might also be the three most crowded beaches in the city, but for the true "urban beach" aesthetic, they can't be beat. All three offer food and drinks, and North Ave has jet skis for rent.
Prairie Shores & Oakland
Beyond Museum Campus and McCormick Place, affordable lakefront living is in bigger supply. These two neighborhoods include walkable access to incredible hidden gems in 31st St Beach and Oakwood Beach, respectively. These modern facilities offer fantastic skyline views with food and drinks, yet less crowds.
South Shore
South Shore beaches go above and beyond with the amenities. South Shore Beach, at 71st St, nestled in behind the South Shore Cultural Center, tennis courts, and a nature sanctuary, and nine-hole public golf course. Rainbow Beach, off 75th St, features tennis and handball courts, baseball diamonds, a fitness center, and multipurpose rooms.
East Side
Nestled into the northern pocket of the little-known East Side neighborhood, Calumet Beach is well out of the way of most Chicagoans–leaving Calumet all for the locals. Fields for seemingly all sports, a running track, and a taco stand are among its highlights.