Chicago's past, present, and future all come together in the city's iconic Gold Coast neighborhood — and there is no team better equipped to help you navigate this area's real estate market than the agents of Baird & Warner Gold Coast. 
Originally conceived as the "Astor Street District" in the 1800s, the Gold Coast has long been a popular destination for shopping, dining, and nightlife. Since the turn of the century, the Gold Coast has been well-regarded as a hotbed of incredible homes, full of historic mansions, greystones, and too many high-rise complexes to count. Throughout the decades, some of Chicago's most famous citizens have called the Gold Coast home, ranging from real estate developer Potter Palmer to media mogul Oprah Winfrey. 
Today, when you think of the Gold Coast, you think of "sophistication," says Richard Druker, the office's managing broker.
Located just north of the Loop, the Gold Coast offers residents unparalleled access to some of the best stores and restaurants in all of Chicagoland, including the offerings of the world famous "Magnificent Mile" district. Nestled along the banks of Lake Michigan, the area also offers stunning views and all the conveniences of modern city living. 

For the team at Baird & Warner Gold Coast, keeping up with the demands of this special local market means developing a set of unique skills. 
"Our product differs compared to other Baird & Warner offices," Rick explains. "due to our involvement in selling mostly high-rises." This includes condominiums, cooperatives, lofts, new construction, and multi-family buildings. 
The Gold Coast office holds the distinction of being one of Baird & Warner's top branches, based on volume of sales. Baird & Warner has developed a unique approach to promoting luxury listings with a focus on gaining worldwide exposure through specially branded advertising and exclusive marketing materials, which Gold Coast uses to great success. Gold Coast broker associates also regularly attend comprehensive training programs to elevate their knowledge of the Chicago market and the real estate industry as a whole. 
As a result, the agents of the Gold Coast office have some remarkable success stories, Rick says. For instance? He points out that the office's 2018 "Rookie of the Year" did about $8 million in business. 
And it's not just the sales figures that make the Gold Coast office stand out. 
"Easily our culture and people set us apart," says Rick. "We have a great group of brokers who produce, but who are also kind and quality people. People may be surprised by how relaxed and collaborative we all are."
This office makes it a point to gather and be social, holding regular community events throughout the year. The Gold Coast is also an active part of Baird & Warner's Good Will Network and takes part in the annual $24K of Solid Good giving campaign. In addition, "many of our brokers have their own philanthropic relationships and are always giving back in their own ways," Rick explains. 
More than 200 of the most accomplished and experienced brokers in the country call the Gold Coast office home. As downtown Chicago's premier real estate office, Baird & Warner Gold Coast is based out of a 10,000 square foot, state-of-the-art facility located on world-famous Michigan Avenue. Part of the Olympia Centre office building, the office boasts its own in-house technology facility, as well as mortgage and title services on-site.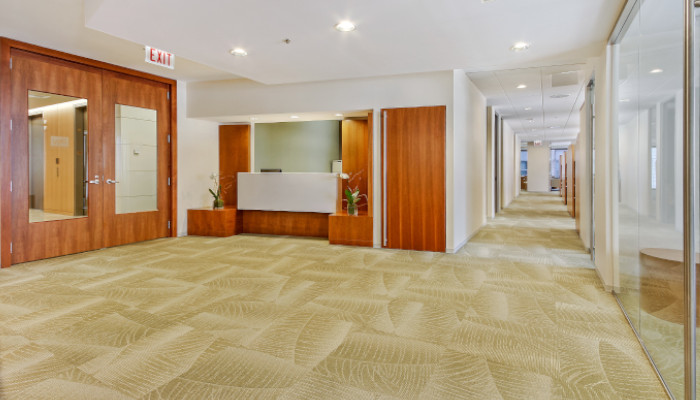 One big reason for this office's success is the diligent work of managing broker Richard Druker. Rick has more than 35 years of experience in the Chicago real estate market, including nearly 18 years as a managing broker with Baird & Warner. When he came on as managing broker, the Gold Coast office consisted of about 30 agents; today, that number has grown to about 200 active agents. 
As a managing broker, Rick believes there is always more than one way to answer a question or solve a problem. He always tries to find the positive in a situation, and he believes that enthusiasm and hard work translate into great success in the real estate industry. 
Rick's unique skill set makes him a great fit for the Gold Coast office. His real estate knowledge and expertise extend far beyond selling and listing. In fact, Rick has been actively involved in the development, renovation, management, and leasing of numerous residential and large commercial projects.
Covering the Loop and the Near North Side, among other Chicago neighborhoods, Baird & Warner Gold Coast is leading the way into the future by knowing its market and keeping it personal — even while offering its clients a global reach and a wide-ranging perspective on all things real estate. Want to learn more about the amazing team at Baird & Warner Gold Coast? Be sure to follow this office on Facebook, or visit its official page, here.