Located about four miles west of the Loop, Humboldt Park is one of Chicago's most inspiring neighborhoods. For generations now, this dynamic community has been celebrated as a haven for tasty food, incredible art, and local, family-owned businesses. It's a great place to visit — or to call home! Just ask the social media superstar alligator who moved in over the summer. 
So, what should be on your bucket list of things to see and do in Humboldt Park? Here are ten local experiences you can't miss: 
1.) Learn and Engage at the National Museum of Puerto Rican Arts and Culture
Housed in the historic Humboldt Park Stables, the National Museum of Puerto Rican Arts and Culture is a community museum with an incredible array of year-round arts and cultural exhibitions, that highlight the past, present, and future of Puerto Rico and its diasporic people. Free to enter, this stunning museum boasts several large galleries, performance spaces, classrooms, and more. Throughout the year, the museum also hosts an array of community events, including arts workshops, festivals, and film screenings. 
To learn more about the mission of the National Museum of Puerto Rican Arts and Culture, or plan your trip, you can visit the museum's official site, here. 
2.) Experience the Paseo Boricua
At the heart of the Humboldt Park neighborhood is the Paseo Boricua, a six-block stretch of Division Street celebrating the area's rich history and the heritage of its Puerto Rican community. This area is dense with incredible things to see, do, and experience, and is home to several legendary Puerto Rican restaurants, as well as shops, street art, and public monuments. At either end of the Paseo you'll find enormous steel gateways, built to evoke the Puerto Rican flag. Erected in 1995, these 59-foot marvels welcome visitors and locals to the area, and have become iconic landmarks in their own right.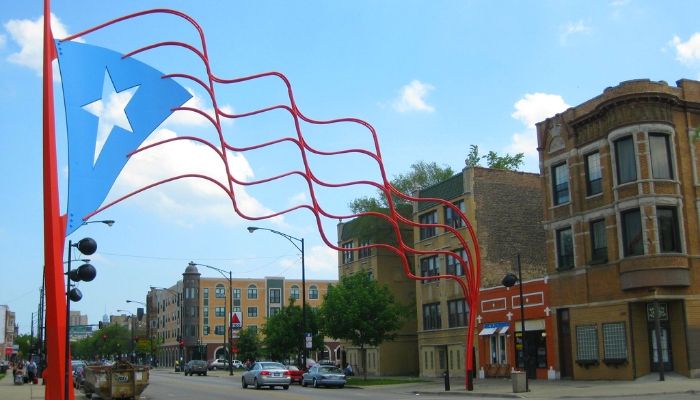 3.) Celebrate the Arts With UrbanTheater Company
Since 2005, the passionate artists at the UrbanTheater Company, or UTC, have been creating productions that speak to the Humboldt Park community and beyond. Committed to creating "works that convey, illuminate and empathize with the human experience," UTC stages cutting edge theater that shines a light on social issues impacting Chicagoland. For more than 13 seasons, UTC has premiered new plays and reimagined classics in a variety of different venues around Chicago. 
To learn more about UTC or buy tickets to its current season, you can visit the company's official site, here. 

4.) Explore Humboldt Park
Covering nearly 200 acres, Humboldt Park is the center and namesake of the community. This gorgeous, sprawling park is full of incredible attractions, including an enormous field house, a lake complete with an active boat house, and many different playing fields and gardens. Tour the park and you'll find everything from a monument to the naturalist Alexander von Humboldt, to bison statues with roots going back all the way to the 1893 World's Columbian Exposition. Humboldt Park is also home to countless activities and festivals throughout the year, including musical performances, film screenings, and Shakespeare in the Park events. 
To learn more about the history and offerings of Humboldt Park, you can visit its official Chicago Parks District page, here.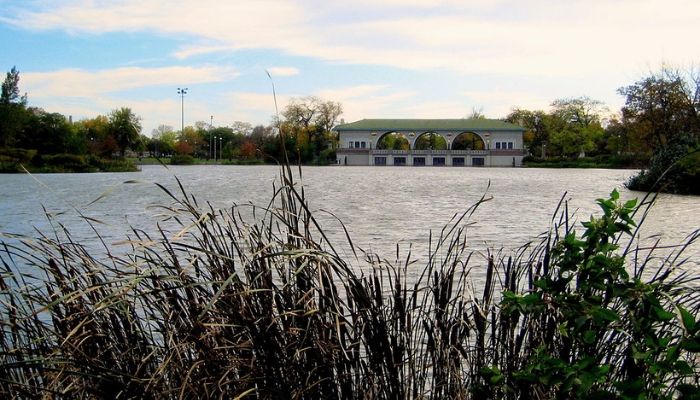 5.) Stretch Your Green Thumb at Adams & Sons Gardens
Nothing brightens up a home quite like houseplants and fresh flowers, and there are few places in Chicagoland to stock up quite like Adams & Sons. A local mainstay, this Humboldt Park area garden center is well known for its enormous selection, friendly and knowledgeable service, and large, welcoming space. Whether you're looking for a hanging basket, annuals, perennials, or veggies for your garden, this Chicago oasis is worth a stop. 
Want to learn more about this local favorite? You can see what customers have to say about Adams & Sons on Yelp and Facebook. 
6.) Find Something Quirky at a Humboldt Park Shop
Looking to stock up your home with something chic, classic, or quirky? Humboldt Park and the surrounding area are full of shops worth exploring whenever you're seeking out a true one-of-a-kind find. On California Avenue, Humboldt House Co. offers an eclectic selection of ceramics, jewelry, art, and home furnishings. Not far away, Vintage Quest collects and sells retro items from the 1930s through the 1970s, including furniture, records, artwork, and more. And don't forget Space Oddities, an off-the-wall bookstore and gallery featuring an ever-changing assortment of literature, candles, sculptures, and prints. 
7.) Hop on the 606 Trail
Running across Chicago's western neighborhoods, the 606 Trail is a local landmark that connects Humboldt Park to Logan Square, Bucktown, and Wicker Park. Converted from abandoned elevated railway lines into a gorgeous public park and trail system, the 606 features ample green spaces, pathways, public art installations, and rest areas. It's a must-do for walkers, bikers, or anyone who wants to get a fresh view of some of Chicago's most iconic neighborhoods. 
To learn more about the history of the 606 or plan your visit, you can check out its official site, here. 
8.) Step Back In Time at a Retro Humboldt Park Spot
Humboldt Park is an area with a vibrant history, and today, the neighborhood is full of local spots that continue to bring the past to life in interesting new ways. For instance? No visit to Humboldt Park would be complete without a stop at Roeser's Bakery for a sweet treat. This local institution has been serving up cakes, cookies, and pastries for more than a century, making it Chicago's oldest family-owned bakery. Nearby in Humboldt Park, Spinning J Bakery & Soda Fountain whisks visitors back to the Roaring Twenties, courtesy of its centerpiece 1928 soda fountain bar, which the owners saved from demolition. Just blocks away from Humboldt Park, California Clipper serves up live music and a vintage drink menu in an Art Deco-inspired spot that dates back to the 1930s. 
9.) Get In Tune at Specimen Products
It's not every day that you get to experience what it's like to play on an instrument handmade from scratch — let alone learn how to make one of your own. That's exactly what's in store at Specimen Products, a Humboldt Park staple dedicated to bringing impeccable craftsmanship and cutting edge sounds to the neighborhood. Led by artist, designer, and musician Ian Schellner, Specimen offers a wide range of handcrafted guitars, amps, and sound equipment, and is home to the Chicago School of Guitar Making, where musicians and makers can learn the skills needed to construct instruments of their own. 
To learn more about this unique local workshop, you can visit Specimen Products' official site, here. 
10.) Tour the Area's Signature Murals
Who says you need to visit a gallery or museum to appreciate vibrant and dynamic artwork? The Humboldt Park neighborhood is awash in colorful murals and street art. Largely concentrated in the area around Western Avenue, Division Street, and Rockwell Street, the large murals of Humboldt Park celebrate the area's history, shine a light on local businesses, and truly help showcase the soul of this eclectic Chicagoland community. 
To see some of Humboldt Park's most iconic murals for yourself, the Chicago Tribune has a guide to the area's public art available here, or you can learn more via Choose Chicago, here. 
Want to Keep Exploring Humboldt Park?
To discover even more about the Humboldt Park community, visit our official guide to the area's real estate market, available here.