Helping those in need, strengthening our communities, and empowering everyone in our family to become a part of something bigger — that's all part of our DNA here at Baird & Warner. For more than 164 years, we have been proud to give back to the Chicagoland communities we call home. 
Today, the incredible agents at Baird & Warner Fox Valley take giving back to new heights. 
"As of a poll we took this winter, our brokers are actively involved in over 65 different community organizations throughout the Fox Valley region," explains managing broker Renee Naffziger.
These amazing agents are always looking for new ways to give back. As Renee explains, the Fox Valley office helps sponsor a PETpalooza with Anderson Animal Shelter, and is a part of Batavia's Oktoberfest celebrations. Fox Valley is also involved with the Northern Illinois Food Bank, and Feed My Starving Children. 
"People are always getting involved when one of our brokers reaches out for volunteers," Renee says. "It's one of the best things about our group!" 
As part of its culture of giving back, Baird & Warner Fox Valley has hosted an event called Bowling for Marklund for 14 years straight. At this year's annual fundraiser, Fox Valley helped raise $15,000 for Marklund, a local organization that works for "a happy, safe, purpose-filled life for every individual with intellectual and developmental disabilities." 
Over the years, Baird & Warner Fox Valley has raised more than $115,000 for Marklund alone, according to Renee. In 2015, Marklund awarded the Fox Valley team for their longstanding support, honoring them with a Hero Award for their impressive efforts.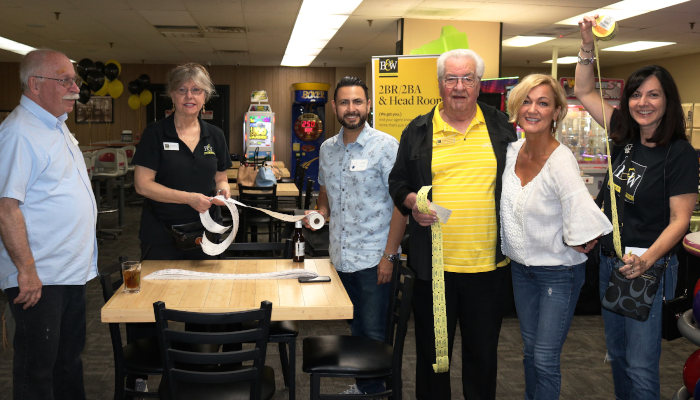 "What sets our office apart from other brokerage offices is what sets Baird & Warner apart," Renee says. "We support each other both personally and professionally. We hold ourselves to the highest ethical standards, and we like to have fun. Add to that the amount of ongoing professional training and community involvement, and it makes you proud to be associated with the Fox Valley office!" 
On top of it commitment to the community, the Baird & Warner Fox Valley team comes together throughout the year. They hold an annual holiday party, host golf outings, and enjoy an office "Martini Madness" event.
"People may be surprised to learn how much we truly do care about each other and how much active support we give each other both as brokers, and personally," Renee says. 
At Fox Valley, this commitment to community starts at the top. Renee has been in the real estate industry for nearly 30 years. As managing broker, she leads by serving, and makes it her mission to help agents achieve their biggest goals.
"My job is to figure out how I can best help each broker. My success as a manager is watching and encouraging my agents' success," Renee says. "My management style is very hands-on. I manage a large office but try my best to know what is going on professionally as well as personally with my agents. I enjoy meeting with my agents frequently and coming up with plans to help them lead successful careers and balance this job with their lives. I try to be encouraging, supportive and attentive for our agents and help them with their specific needs."
"I am very fortunate to have an assistant manager, full-time trainer, and sales support manager in my office," she continues. "Every agent that joins our office gets customized training based on their experience and always has support to quickly get their skills and business built."
This focus on coaching, personal attention, and technology has led to some remarkable success for agents in the Fox Valley office — including being named the number one office in sales in Kane County for the past five years, Renee says. 
"We have had many agents over the years start as new agents and with our training and support, they have been able to quickly build a successful business. Motivated agents can quickly become top producers," Renee says. "We give brokers all of the tools and training they need to build a career. It is then up to the agent to put it to use and determine how hard they want to work." 
In fact, Renee points out that the assistant manager of the Fox Valley office "was hired as a new agent four years ago." With her background in teaching and her skills as a broker, she quickly rose through the ranks. 
It just goes to show, Renee says, that "there are so many opportunities to pursue your career within Baird & Warner."
Based in Geneva, Baird & Warner Fox Valley covers all aspects of the real estate process for Aurora, Batavia, Elgin, and St. Charles, among other Chicagoland communities. Want to learn more about this amazing team, and all the inspiring ways it gives back to the region? Be sure to visit the office's official web page, or follow Fox Valley on Facebook and Instagram for news, updates, and more.