Wicker Park is one of the oldest and most vibrant areas in Chicago. Over the decades, this ever-changing community has served as a quiet residential neighborhood, a busy center for industry, and a haven for artists and creatives. Today, Wicker Park is one of the city's most sought-after neighborhoods, full of incredible restaurants, great shopping, and popular nightlife options.
So, what should be on your "bucket list" of things to see and do in Wicker Park? Here are ten of the can't miss experiences that make this district such a popular draw:
1.) Enjoy Some Quality Time in the Park
Standing at the center of the community, Wicker Park's namesake feature is a major draw in its own right. This cozy, 4.7-acre park is home to a spectacular fountain feature, baseball fields, basketball courts, dog-friendly areas, a children's playground area, and plenty of green space perfect for soccer and football. Whether you want to lounge in the sun, play a pick-up game, stop and smell the flowers, or enjoy a movie in the park, Wicker Park is well worth a visit.
Want to learn more about the history and amenities of this neighborhood gem? You can discover more about this popular green space at its Chicago Parks District page, available here.

2.) Find the Way In at The Violet Hour
Chicago has long been known as a destination for cocktail lovers, dating all the way back to the 1920s and beyond. Throughout the years, the city has earned a glowing reputation as a center for finely crafted artisanal food and drinks. Now, celebrated speakeasies like The Violet Hour are keeping the area's cocktail culture alive. Located near the heart of the Wicker Park neighborhood, the Violet Hour is known both for its ever-changing pre-Prohibition cocktail menu, and its discreet entrance tucked away behind an enormous mural.
To find the bar's clandestine location and explore its vibrant menu, you can visit The Violet Hour's official site, here.
3.) Hop on the 606 Trail
When you want to spend the day walking, biking, or simply enjoying the sights and sounds of the city, Wicker Park is a great launching point. The neighborhood puts you in a prime position to start your journey along the 606 trail. Comprised of paths, green spaces, sitting areas, and art installations, the 606 is a public park built out of the remnants of a former elevated train line. It runs across the west side of Chicago, from Humboldt Park to Bucktown.
To plan your visit or learn about all that this iconic Chicago feature has in store, you can explore the official site of the 606, available here.
4.) Explore the the Flatiron Arts Building
A central hub of the Wicker Park community, the Flatiron Arts Building has long been a destination for Chicagoland creatives, as well as those looking to experience the next great wave of local artists firsthand. While the building is primarily home to studio spaces, it is also open to the public, and contains several theaters and performance venues, as well as The Railcar, a popular escape room game. The artists of the Flatiron also regularly open their doors to host showings, parties, and events throughout the year.
To learn more about this famous artistic complex, you can visit the Flatiron's official site, here.
5.) Listen to Live Music at a Wicker Park Venue
Wicker Park has long been a major Chicagoland destination for fans of live music. While Double Door, a staple of the neighborhood's music scene, began the process of moving out of the area in 2017, the streets of Wicker Park are still full of spots where music fans can hear their favorite tunes, including local haunts like Smoke Daddy and Nick's Beer Garden, which each host a rotating roster of up-and-coming acts. Another anchor of Wicker Park's music scene, Subterranean plays host to popular live acts in a variety of genres, as well as DJ nights and dance parties.
6.) See a Show at a Wicker Park Theater
Wicker Park has long been a haven for artists of all disciplines — and that includes the playwrights, directors, actors, and designers that make Chicago's performing arts scene so special. Wicker Park is home to several different performance spaces, which host shows from a variety of popular and cutting-edge companies. The Den Theatre, for instance, is an enormous arts complex with multiple stages. It hosts a variety of live events, and is the home of several resident theater companies, including Firebrand Theater and Haven Theatre. Elsewhere in Wicker Park, you'll find a variety of innovative pieces put up in Collaboraction's flexible performance studios, as well as exciting works going up at the historic Chopin Theatre.

7.) Celebrate the Summertime at Wicker Park Fest
For many people, summer in Chicago is all about heading out to an open air street festival — and the annual Wicker Park Fest is one of the city's biggest and most popular outdoor events. For more than 16 years, people from all around Chicagoland have descended on Wicker Park each summer to enjoy three jam-packed days of fun, food, fashion, and music. While Wicker Park Fest has enough amazing activities and events to keep people of all ages entertained, the real draw is the music. In past years, musical acts at the Fest have included local favorites, hot up-and-comers, and international headliners alike.
For more information on Wicker Park Fest or to plan your visit, you can check out the festival's official site, here.
8.) Embrace Your Inner Geek
When was the last time you really let out your inner pop culture nerd? Whatever geeky things you're passionate about, Wicker Park has a spot sure to pique your interests. Along Milwaukee Avenue, for instance, you'll find The Wormhole Coffee, an '80s-themed java joint serving up fresh roasts in cozy digs, complete with vintage video games and tons of retro sci-fi artifacts — including a full-sized DeLorean. A little further down this bustling strip is Emporium Arcade Bar, an enormous venue that houses dozens of arcade and pinball games, as well as skee-ball and air hockey. Throughout the year, Emporium also hosts events, including pop culture-themed "pop-up" experiences inspired by classic TV shows and movies.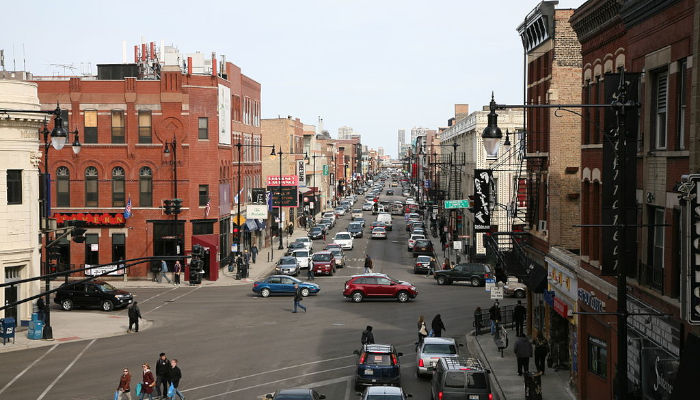 9.) Build Your Music Collection at a Wicker Park Record Store
Music lovers, rejoice! Wicker Park is full of record stores perfect for music buffs hoping to add that hard-to-find vinyl pressing or out-of-print tape to their collection. Whether you're a massive music collector or you just want to browse the stacks for fun, you can't go wrong ducking into a Wicker Park record store. Around the neighborhood, your choices include the sprawling shelves at Reckless Records; the extensive collection of vinyl and cassettes on display at Shuga Records; and the bounty of discount tapes, CDs, records, and DVDs available at The Exchange.

10.) Start the Day With a Wicker Park Brunch
Forget what you may have heard from your parents. When you're in Wicker Park, it's brunch that's truly the most important meal of the day. This Chicago neighborhood is full of popular spots to grab the meal that's not quite breakfast, and not quite lunch. In fact, a number of Wicker Park restaurants routinely wind up on lists of the city's best brunch places. Some legendary Wicker Park brunch destinations include Dove's Luncheonette, Bongo Room, Mott Street, and Hash, among countless others. Want to grab food al fresco? You may also want to add the gorgeous patios at Big Star and Handlebar to your list of places to try.
Want to Keep Exploring Wicker Park?
Want to get to know this western Chicago district even better? To see market trends, properties for sale, and other important information you should know about this thriving community, please visit our guide to Wicker Park real estate, available here.