Where do you go when you're looking to sweep that special someone off their feet?
Chicagoland is home to plenty of amazing things to see, do, and experience — including some uniquely romantic spots you won't find anywhere else.
If you're looking for a romantic, special experience in Chicagoland, we've got you covered. Here are seven breathtaking Chicagoland spots perfect for first dates, wedding proposals, anniversaries, and everything in between:
Explore the World at Garfield Park Conservatory
Want to be wowed by the wonders of the natural world? Then you have to pay a visit to the Garfield Park Conservatory.
One of the largest botanical conservatories in the country, the Garfield Park Conservatory is one of the crown jewels of the Chicagoland area. All year round, this large complex helps whisk visitors away to different parts of the globe, thanks to its acres of indoor and outdoor gardens, which highlight stunning plants from tropical rainforests, desert landscapes, and from right here in the American midwest. The Conservatory is also home to rotating art displays and exhibits, and often hosts special events, ranging from incredible flower shows to relaxing group yoga sessions.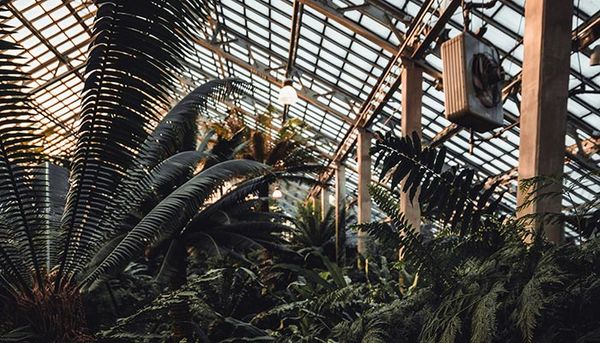 Savor the Skyline from Promontory Point
When you want to really impress someone, there are few sights as breathtaking as the Chicago skyline.
Our home city features some of the most recognizable and iconic skyscrapers in the world. Whether silhouetted by the "golden hour" of the morning, or lit up at night, the Chicago skyline is a romantic and jaw-dropping sight — and Promontory Point, located in Hyde Park, is one of the very best spots to take it in.
Nestled along Lake Michigan, Promontory Point offers a panoramic view of the Chicago skyline. The Point is a great place to go for a picnic. Its convenient location in Burnham Park also makes Promontory Point an excellent launching point for a day of fun, offering easy access to beaches, a wildlife sanctuary, and more.
Get Lost in Natural Beauty at Morton Arboretum
Winter, spring, summer, or fall, the grounds of the Morton Arboretum are a great place to explore with someone special.
Located in DuPage County, the Arboretum bills itself as a "living museum," where attendees can marvel at 222,000 live plants, as well as the remarkably diverse array of wildlife that call the trees and flowers their home.
Boasting miles of trails, a living maze, art displays and events, a restaurant and cafe, and ongoing classes, the Morton Arboretum is a great place to go when you're looking to get away and experience the wonder and beauty of the natural world. Whether you want to learn, play, or just enjoy a unique glimpse into nature, the Morton Arboretum should be high on your Chicagoland "must-see" list.
Take in the Views from the Signature Room or 360 Chicago
When you want to take in all that the Chicagoland area has to offer, one of the best places to go is up. Boasting some of the tallest skyscrapers in the world, downtown Chicago is a great place to get above it all, and savor some absolutely unbeatable views.
Whether you want to look out at the vast expanse of Lake Michigan or view the glittering lights of a Chicagoland evening, the address to remember is 875 North Michigan Avenue. This iconic building is home to some excellent spots to take it all in.
360 Chicago is a spacious observatory, which gives visitors a view of Chicagoland you won't find anywhere else. This skydeck even offers a moving exhibit that literally gives visitors the chance to lean out over Michigan Avenue. Also in this building, you'll find the Signature Room and the Signature Lounge, which each boast stunning horizon views, along with plenty of delicious bites to eat and drink.
Discover a New Favorite Wine at a Local Vineyard
What could be more romantic than an afternoon spent strolling through the lush fields and storerooms of a charming, independent winery?
Fortunately, you don't need to jet off to Italy to experience the wonders of winemaking; there are plenty of opportunities to explore the unique world of wine, right here in Chicagoland. Northern Illinois is home to plenty of local wineries, each offering unique tasting menus, tours, and experiences worth savoring.
What spots should wine lovers add to their list? There are plenty of vineyards and wineries worth a visit around Chicagoland, including Valentino Vineyards in Long Grove, Lynfred Winery in Roselle, Galena Cellars in Galena and Geneva, and Acquaviva Winery in Maple Park, to name just a few.
Enjoy the Show at a Vintage Movie Theater
What could be better than enjoying a true cinematic classic? What about taking in a film in a movie house bursting with charm and history? Chicagoland is full of throwback movie palaces, offering a great chance to experience what it may have been like to see a talkie during cinema's "Golden Age."
Moviegoers looking for somewhere unique and memorable for their next double feature have no shortage of great options. In Lakeview, you have the effortlessly charming Music Box Theatre, a hidden gem that is absolutely beloved by Chicagoland cinephiles. A short walk away, Lincoln Square is home to the Davis Theater, one of the oldest continually operating movie theaters in the country. Movie lovers can also enjoy the sights and sounds of the art deco-inspired Logan Theatre in Logan Square, the historic Patio, in Portage Park, or the iconic Classic Cinemas Lake Theatre, in Oak Park.
Spend a Day at Museum Campus
Located in the South Loop, Museum Campus is a great place to while away the day. This stretch of land is home to plenty of amazing things to see and do.
For starters, there are the iconic and awe-inspiring museums that give this Chicagoland spot its name, including the Shedd Aquarium, the world-famous Field Museum, and the Adler Planetarium. Whether you want to be transported back in time, explore the deepest depths of the ocean, or rocket off to space, you'll find the experience for you at one of these Chicagoland institutions.
And then there's everything else that Museum Campus has to offer, including sweeping views of the city skyline and Lake Michigan. The Campus is also home to the thrilling gameplay you'll find at Soldier Field, and it's just a short walk away to the quiet, lush fields of Northerly Island. Museum Campus also makes for a great starting point for making your way along the Lakefront Trail. From here, you'll be able to wind your way towards countless other Chicago landmarks, including Buckingham Fountain and the rest of Grant Park.
What's Your Favorite Chicagoland Spot?
At Baird & Warner, we're all about connecting people with Chicagoland — past, present, and future. After all, we've been shaping Chicagoland history since 1855. We get you. Whether you're looking for a new home, or just a recommendation on a hidden gem in your new neighborhood, talk to your local Baird & Warner agent. Our brokers are hyperlocal experts, who always have tips, secrets, and stories to share.