Located west of Chicago, Geneva is the seat of Kane County, Illinois. Full of charming shops, world-class restaurants, and breathtaking views of nature, Geneva is a great place to explore, whether you call it home or just plan to stop by for a short stay.
What are the Geneva sites and attractions that you just can't miss? Here are ten Geneva staples to put on your bucket list:
1.) Go Shopping and Dining on 3rd Street
Running through the heart of downtown Geneva is the city's bustling 3rd Street. Full of shops and restaurants, this strip is a beloved destination for locals and tourists alike. Just a short distance from the Geneva Metra station (UP-W line), 3rd Street has spots sure to satisfy everyone's tastes, with options ranging from a top-rated burger joint, to an all-chocolate eatery, to an upscale New American restaurant based out of a converted old home. Plenty of unique shopping, including thrift stores and antique shops, also make this charming area a great place to spend an afternoon.
2.) Get to Know the Area at the Geneva History Museum
The Geneva History Museum's official mission is "to preserve and share Geneva's evolving story while inspiring and engaging the community." Given the wealth of amazing history that Geneva and Kane County have to offer, that's a pretty admirable goal. The Geneva History Museum is a one-stop-shop to learn more about this historic and charming community. The Museum hosts an impressive collection of local records and stunning photographs, and can help connect you with all sorts of fun educational events in the area, from Halloween cemetery walks to van tours of the historic district.
To start exploring all that this local gem has to offer, you can visit the Geneva History Museum's official website, here.
3.) Dine on Tacos at Bien Trucha Restaurant
Locals will tell you that there's often a line to be found outside of Bien Trucha, a small Mexican restaurant nestled on State Street. Known for its authentic yet innovative menu of tacos, tortas, and snacks, this little joint is recognized for its impressively big flavors. In fact, Eater has named Bien Trucha one of "20 Essential Chicago Suburban Restaurants," while the Tribune has listed it as one of the best Mexican restaurants in the Chicagoland area.
Want to learn more about this beloved Geneva gem? To see pictures or check out a menu, you can visit the restaurant's official website, here.
4.) See a Full-Size Viking Ship
Have you ever wondered what a full-size Viking vessel would have looked like in action? Located in Geneva's Good Templar Park is The Viking, an exact replica of the historic Gokstad ship. Coming in at 78 feet long, The Viking itself has an impressive history of its own. Believe it or not, the vessel was constructed and proudly displayed by Norway at the World's Columbian Exhibition, which took place in Chicago back in 1893.
To learn about preservation efforts, or to plan a time to take a tour of this incredible piece of world and Chicago history, you can learn more at the Friends of the Viking Ship's official site, here.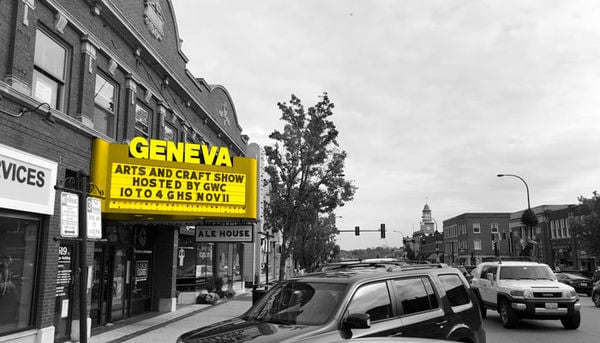 5.) Learn About Coffee at FreshGround Roasting
Whether you're an experienced espresso aficionado, or the kind of person who can't tell an Arabica bean from a pinto bean, FreshGround Roasting is a great place to learn something new about coffee. In fact, this Geneva business is any coffee lover's dream, offering unique blends to take home, as well as coffee sampler and subscription services. Or, if you're looking to kick up your home coffee game, FreshGround also sells coffee equipment, and offers classes on how to brew the perfect batch of java at home.
Want to impress all of your friends and family with some newfound barista skills? You can start exploring all that FreshGround has to offer on their website and blog, available here.
6.) Get Whisked Away to a Japanese-Style Garden
The Fabyan Villa Museum and Garden is a must-see in Geneva. This unique property is a treasure trove of history and beauty. Whether you're a local or a visitor, you're going to want to block off a few hours to explore this entire Geneva estate, which features a farm house remodeled in the early 1900s by none other than Frank Lloyd Wright, as well as hundreds of acres of woodland, and a truly astonishing and picturesque Japanese-style Garden.
To learn more about the museum and garden, the Forest Preserve District of Kane County has a guide available here.
7.) Visit the Most Authentic Dutch Windmill in the United States
Nestled not far from the Fox River is a site that Atlas Obscura has called "the most photographed structure in the region:" The Fabyan Windmill. Named for the wealthy Geneva resident who purchased the windmill and had it painstakingly brought to its current resting place, the windmill is a marvel of engineering, and makes for a unique spot for exploration, picnicking, or, in the winter months, sledding on the impressive hills. Though it is technically in nearby Batavia, no amount of time in Geneva is complete without taking in this European-style marvel brought to life in suburban Illinois.
To learn more about the Fabyan Windmill's history, you can visit the Forest Preserve District of Kane County's official guide, here.
8.) See a Brewery in Action at Penrose Brewing Company
Want to learn more about what goes into making a delicious craft beer? Or are you looking to expand your horizons and discover something new? For craft beer lovers and novices alike, Penrose Brewing Company is well worth a visit. Whether you stop by their inviting taproom for a pint and a friendly conversation, or tour their state-of-the-art brewery facility, you're sure to walk away from Penrose with a new story to savor.
To learn more about tours, tastings, or special events at the brewery, visit Penrose Brewing Company's official site, here.
9.) Go Exploring Along the Fox River
Winding its way around Geneva and nearby towns Batavia and St. Charles is the Fox River Trail. This scenic pathway offers great views of the famous Fox River, which cuts through Kane County. Whether your goal is hiking, trail running, biking, or birding, the Fox River trail is a wonderful place to take in the sights and sounds of nature, get some exercise, or take some time to relax and unwind.
10.) Taste Chicagoland History at Fox River Distilling Company
Want to learn the difference that local grains and water make when it comes to gin, whiskey, and vodka? Then a stop at Fox River Distillery is a must! Even for non-drinkers, this modern distilling company is worth a visit, as it's a great resource to learn about Geneva's storied past. In fact, did you know that one of the founders of Geneva himself ran a distillery? To learn about the rich history of Chicagoland spirits, and to get a sense of where this industry is going in the future, stop by Fox River Distilling Company for a tour, a taste, or a special event.
To learn more or to find a time to stop by, you can visit the Fox River Distilling Company's official website, here.
Have any more questions about Geneva? Be sure to get in touch with a local Baird & Warner agent today. In the meantime, be sure to check out our neighborhood guide video, available here.