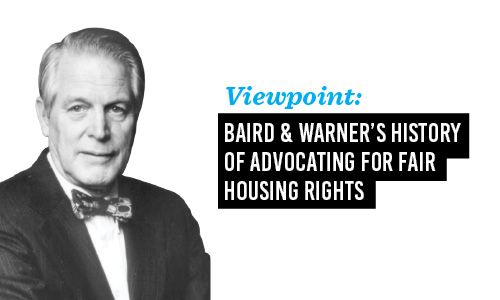 Chicago Agent magazine's Fair Housing Act 50 issue celebrates Baird & Warner for standing up for fair housing, even when it wasn't the popular thing to do.
"In the early 1960's, John Baird, father of the firm's current president, Steve Baird, was president, and participated as an industry advocate in fair housing debates at the local, state and federal levels."
At the time, Baird & Warner was one of Chicago's only industry voices in support of opening housing opportunities for all. As such, John Baird was met by a lot of opposition. He's quoted from a letter he wrote in 1965 to an opponent of fair housing.
"Fair housing should be the law of the land if 'this nation is going to survive as one of the great free nations of the world,'" he wrote.
The article goes on to talk about the backlash John Baird received for his stance, how he kept fighting then, and how we continue to do so today.
Read the article here.