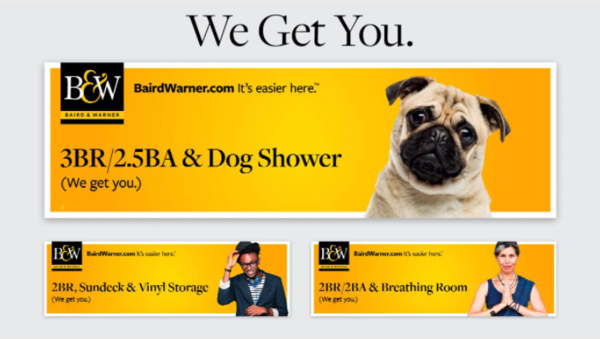 While real estate services are generally considered a commodity, we know our agents are the differentiator in the market. So, we're focusing on the value they bring to every transaction by using engaging imagery to share the emotional side of our "easier" message.
"We make real estate easier" remains our brand promise, driven by our clients, broker associates, loan officers, and staff. And while it's a promise with tangible value, it's also a very aspirational one — we're replacing uncertainty, confusion, and anxiety with excitement, confidence, and peace of mind.
Our agents get to know their clients in a way an app or online search alone simply can't — Baird & Warner agents "get" their clients' unique personality and lifestyle. Our new ads are simple, witty, and refreshingly current, and the message behind them is clear: our agents are their clients' champions, committed to helping find the home that's just right for them.
So, whether you're looking for a condo with room for your vinyl collection, a home big enough to accommodate a doggie shower, or a townhouse with ceilings high enough to stretch your yoga muscles, trust your Baird & Warner agent to make it happen.