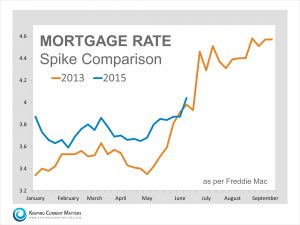 Freddie Mac reported in its Mortgage Market Survey that interest rates have climbed to more than four percent for the first time this year. The average rate on a 30-year fixed-rate mortgage reached 4.04 percent earlier in June but has declined to four percent.
"This long overdue increase in interest rates is actually a good thing, as it means the job market is strong and consumer confidence is up," said Steve DiMarco. "However, interest rates will continue on this upward trend, so now is the time to reach out to those buyers and sellers who are on the fence about making a move."
Fannie Mae, Freddie Mac, the Mortgage Bankers Association and the National Association of REALTORSⓇ are each calling for rates to continue their upswing over the next six quarters.